PFMC, Digital Air Flow Sensor, 2-Screen 3-Color Display, IP65, 5-2000 Lpm
PFMC, Digital Air Flow Sensor, 2-Screen 3-Color Display, IP65, 5-2000 Lpm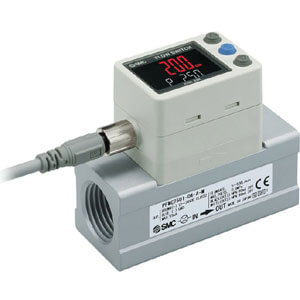 Series PFMC digital flow switch provides continuous quantitative feedback as well as switched signal outputs when set flow levels are measured.  The PFMC is suitable for applications requiring a metered quantity of air, such as for spray painting, filling accumulation, or fixed supply consumption.  Enhanced features differentiate the PFMC from the closest releated SMC product, the PFMB.  The PFMC display has 2 screen and offers main screen characters in red or green, while the sub screen characters are white.  The display can also be rotated in both clockwise and couter-clockwise directions, thereby offering better visibility during operation.  The PFMC also meets IP65 enclosure protection standards and is both RoHS and CE compliant.
Flow range (lpm): 5-500, 10-1000, 20-2000
Port sizes (Rc, NPT, G): 1/2 or 3/4 (flow range dependent)
Rated pressure range (MPa): 0 to 0.8
Output options: NPN/PNP, 1-5V, 4-20mA
Accuracy: ±3% F.S.
Repeatability: ±1% F.S.
---